Filter Positioning 
The SDC -7 positions the air filter in the vertical position that allows gravity and centrifugal force to throw the dust particles away from the air filter.
Filter Positioning
"Horizontal or Single Nozzle Machines" cannot clean "inside/out" filters. They are not engineered efficiently to do so. Due to the horizontal placement, dirt and debris located inside the air filter now have the problem of working against gravity.
Air Nozzles
The SDC-7 comes equipped with 4 angled nozzles. 2 nozzles are located on the inside and 2 nozzles on the outside of the dirty air filter. Once the process has begun, large volumes of precisely located compressed air to properly and efficiently clean a dirty air filter. These nozzles adjust automatically to the inside and outside of the air filter to always be opposing to each other.
Air Nozzles
"Horizontal or Single Nozzle Machines" cannot accomplish this. Their nozzles are fixed and limited in the amount of adjustments, with no directional control over compressed air. The air is blown on the filter surface in the same direction that dirt flows.
Vacuum System
The SDC Machine's vacuum system has both inside and outside vacuum sources at the surface area of the filter where the dirt is and also a centralized chamber vacuum system. Both the inside and outside nozzles are surrounded by vacuum heads that pull the dust/dirt out of the air filters while the nozzles blow out and restore the dirty air filters airflow.
Vacuum System
"Horizontal or Single Nozzle Machines" only have a central chamber vacuum and do not have a vacuum surrounding the nozzles.
Vibration Cycle
The SDC Machine gently vibrates and rotates the air filter allowing the inside/outside air nozzles to provide sufficient air to remove the dirt and debris. This process is completely done under a vacuum source.
Vibration Cycle
"Horizontal or Single Nozzle Machines" don't have a way to vibrate the dust out of the entire filter. The ones that do, use an in-efficient hammering mechanism that damages and forces the protective metal screen (outer/inner core) into the air filter's paper media. Potentially compromising the filter's structural integrity and efficiency.
Filter Dimensions
SDC machine automatically adjusts to any filter height and inner diameter with the help of precisely engineered proximity sensors.
Filter Dimensions
"Horizontal or Single Nozzle Machines" either cannot accomplish this feature or have limited adjustment capabilities. Many of which require manual adjustment.
Cleaned Surface
The SDC Machine is Omni-directional and of continuous rotation, ensuring 100% surface coverage.
Cleaned Surface
"Horizontal or Single Nozzle Machines" cleaning method is unidirectional and by indexing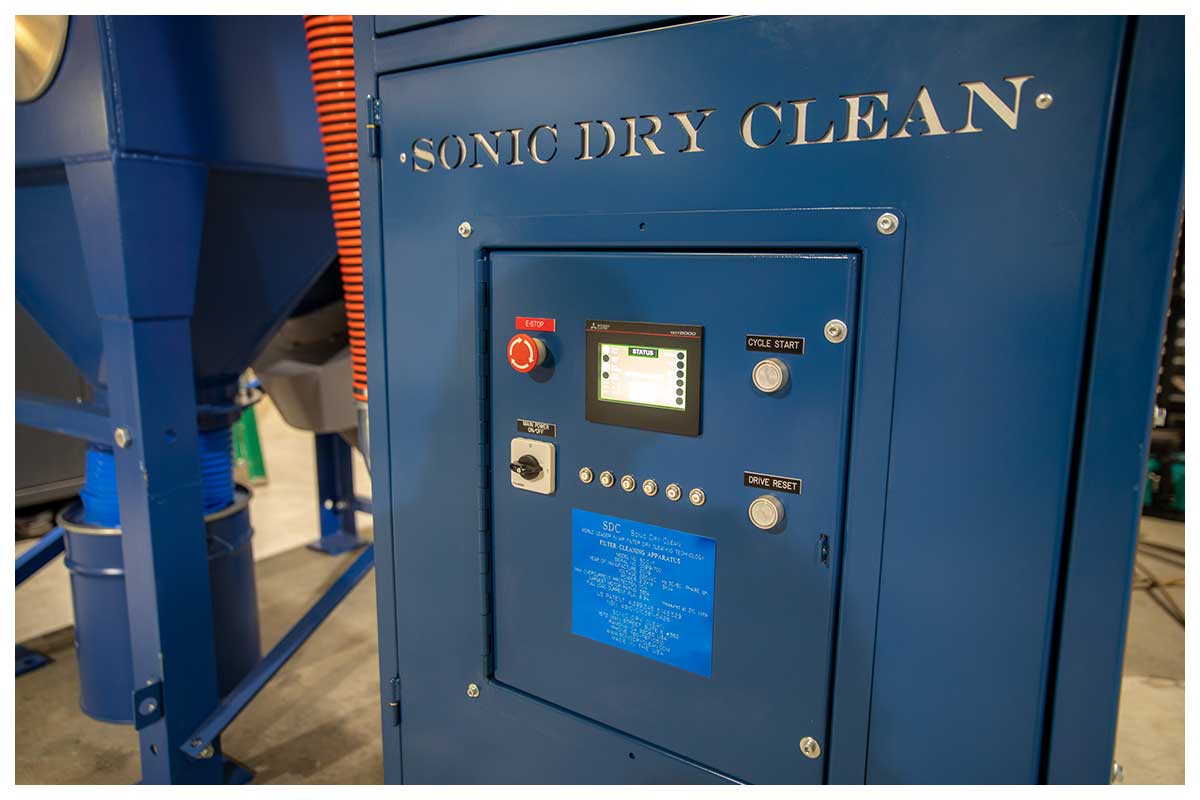 SDC Machine has over 44 world-wide patents on their process. To our knowledge, our competitors have none.
There are currently over 1000 SDC System in use worldwide. No other System has been used in more applications than the Sonic Dry Clean System.
SDC Machine provides better engine protection and higher efficiency than any other cleaning methods. Has been Proven many times with independent testing.
ADDITIONAL SONIC DRY CLEAN ADVANTAGES
Companies that currently use our SDC System have reduced their Air Filter costs by 75%.
Our Patented Cleaning Process has proved* that air filters cleaned by the SDC System provide better engine protection than replacing a dirty air filter with a brand new one.
[RECYCLE]
Boost Recycling! By cleaning air filters, rather than throwing them away after a single use, you help the environment and contribute with recycling programs promoted by your county, state and/or federal environmental agencies.
[REUSE]
Cleaning air filters improve Waste Management by lowering the impact to landfills by as much as 85% because air filters can be cleaned by the Sonic Dry Clean process several times without loss of integrity or efficiency.
[REDUCE]
Fight Pollution – by always having a Clean Air Filter! Clean air filters help you save on fuel costs, reducing pollution, and providing cleaner exhaust emissions.
Reduced Inventory – No need to carry large air filters inventories. You can reduce your inventory by 75%, further decreasing costs and increasing profits.
Quality Assurance – SDC System is designed so you can inspect and test each air filter after cleaning for both flow and integrity with the SDC Manometer Table and 750-Watt Halogen Light Source.
* Private studies by different accredited institutes in California and Texas evidenced a slight improvement in the filtering rate of an Air Filter after 1, 2 and 3 SDC Cleaning cycles vs. that of a brand new one.